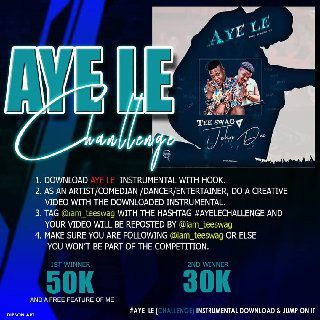 Tee swag – Aye Le Instrumental Ft Johndee
Due to popular demand, rising star and online sensation, TEE SWAG @iam_teeswag on instagram is finally here with the Freebeat of his trending song "AYE LE " Featuring John Dee.
Procedures To Follow To Be Able To Participate In The Competition:
1. Download AYE LE Instrumental.
2. Post A Video of your Cover / Remix on INSTAGRAM and you must be following @iam_teeswag
3. Tag @iam_teeswag with the hashtag #AyeLeChallenge and your Video will be Reposted by @iam_teeswag
4. Make sure you kill the beat whether you sing or Rap
1st Winner – 50k and a Free feature of me 2nd- Winner 30k.
"#AYE LE (Challenge)" Instrumental download & jump on it.